Main article starts here.
Come to HYOGO on an Educational Trip!
Hyogo Prefecture considers educational trips as valuable opportunity to learn, which differs from sightseeing trips.
We aim to actively promote "school exchange" to share the culture of both countries and deepen mutual understanding through opportunities to visit classroom, experience after-school activities( "bukatsudo"), intercultural events, and other various activities arranged by host schools.
In particular, Hyogo Prefecture is a nationwide leader in disaster mitigation education after the Great Hanshin-Awaji Earthquake in 1995, and contains many educational facilities where you can learn about the environment and industry, as well as experience Japanese culture.The information below outlines Hyogo's educational trips.
We made a video about Kansai Educational tour. Click the link below and please watch it!

School Exchange
In Hyogo Prefecture, we promote school exchange with the motto of "fostering worthwhile exchange with a promise to reunite in the future".
We offer various exchange programs such as participating in the classes, touring the facilities, music exchange programs with student groups, sports exchange ,and experiencing Japanese school lunches and cafeteria meals. We also accept visits to educational institutions from kindergarten schools to universities. Please check the link for more details. Let's take a look at the school exchange programs of Hyogo Prefecture!
Disaster Mitigation
Hyogo Prefecture has emphasized disaster mitigation education based on the lessons learned from the Great Hanshin-Awaji Earthquake in 1995. The Hyogo Prefectural Maiko High School(Kobe) has established the first environment and disaster mitigation course in Japan in April of 2002 to promote education for disaster risk reduction. It is very important to establish this course in the disaster-stricken area of Kobe. The course focuses on recent topics of disaster risk reduction, such as the importance of life and helping each other, as well as implementing education on environmental and social issues. If you visit the Disaster Reduction and Human Renovation Institution(Kobe), you can experience the January 17,1995 earthquake through a film simulation and heat testimonies of the survivors. At the Hyogo Prefectural Emergency Management and Training Center(Miki), you can practice disaster prevention drills such as execution and fire drills, as well as experience an earthquake in an earthquake simulation vehicle. The Hokudan Earthquake Memorial Park on Awaji Island also has similar equipment where you can experience 40 seconds of shaking at seismic intensity 7. You can see the preserved Nojima Fault that caused damages to houses and highways during the 1995 earthquake there as well.
| | |
| --- | --- |
| | |
| Tour to Hyogo Prefectural Maiko High School(Kobe) | Disaster Reduction and Human Renovation Institution(Kobe) |
Environment
We have been tackling environmental issues such as recycling and coexisting with nature in recent years, and above all, creating an environment for the return of storks that are becoming extinct, which is a global issue.
In the Hyogo Park of the Oriental White Stork (Toyooka) and the annexed breeding facility, around 100 storks are currently being breaded. You can observe the environment of the storks and learn about environmental conservation there. There are many guesthouses in the area for you to enjoy the rural, interact with the locals, and taste local specialties.
The Panasonic Eco Technology Center(Katoh) and the Center for Recycling (Kobe) have many resources on recycling wastes and electronic products.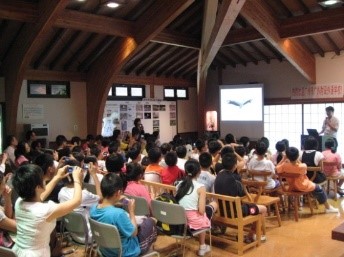 Hyogo Park of the Oriental White stork
Industry
There are also many fascinating opportunities to study the prefecture's industries at facilities such as the Akashi-Kaikyo Bridge, the longest suspension bridge in the world, and "SPring-8," the large synchrotron radiation facility (Sayo) with a site of 141 hectares.
| | |
| --- | --- |
| | |
| SPring-8(Sayo) | Kawasaki Good Times World(Kobe) |
Experiencing Japanese Culture
In Hyogo Prefecture, you can enjoy a wide range of Japanese culture, from traditional to modern. The Osamu Tezuka Manga Museum (Takarazuka) and the fashion industry of Kobe represent the modern aspects of the culture; on the other hand, Himeji Castle (a national treasure) and the traditional puppet shows in Awaji embody the historical side. Furthermore, Kobe is strongly influenced by the foreign cultures that appeared in the Meiji era( about 150 years ago). You can find these footprints of foreign influence in the Old Foreign Settlement , Kitano Foreigner Residence, and Nankin-machi( Chinatown).
Hyogo Prefecture has many hot spring towns such as Arima, Kinosaki and Yumura that are brimming with a uniquely Japanese atmosphere. You can enjoy agricultural experiences such as rice planting and crop harvesting , as well as the different cultural activities such as making soba, pottery, and Japanese paper, or skiing in various parts of the prefecture.
These are worthwhile cultural experiences in Japan that will be memorable for children and students from overseas.
| | |
| --- | --- |
| | |
| The Osamu Tezuka Manga Museum(Takarazuka) | Learning about Japanese traditional puppet show, Ningyo Joruri(Hyogo Prefectural Awaji-Mihara High School) |
Transportation
Highways and railways crisscrossing the prefecture let you move easily from one region to another. Kansai International Airport in Osaka Prefecture is close by, and Hyogo has three airports in Itami, Kobe, and Toyooka, which is very practical for both overseas and domestic tourists coming to Hyogo. Furthermore, there are 4 stops on the Shinkansen line inside the prefecture.