Main article starts here.
Schools / Moving onto Higher Education
Provides information on schools, education, and the education system.
School Education / Moving onto Higher Education
Education System
The basic education system in Japan involves six years in elementary school, three years in junior high school, three years in high school, and four years in university (two years for junior colleges). Both elementary school and junior high school education are compulsory and can be received by foreign children. The types of schools available include public schools operated by the state, the prefecture, the city, and other government units, and private schools operated by incorporated educational enterprises.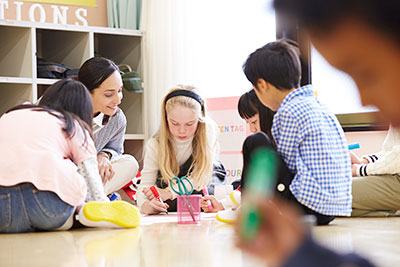 After-School Kids' Clubs (After-School Child Care)
These clubs provide places that elementary school children can safely attend and play in after school hours during the day when their parents are still away or at work. They are incorporated into elementary schools, child welfare facilities, and other such establishments.
International Schools (Schools for Foreign Students)
Twelve schools for foreign students are currently available in Hyogo Prefecture.
Night Schools
These schools are forindividuals who were unable to attend elementary school or junior high schoolfor various reasons. Three night schools are currently available in HyogoPrefecture: Kobe Municipal Hyogo Junior High School - Kita Branch (KobeShiritsu Hyogo Chugakko Kita Bunko), Kobe Municipal Maruyama Junior High School- Nishino Branch ( Kobe Shiritsu Maruyama Chugakko Nishino Bunko), andAmagasaki Municipal Seiryo Junior High School - Kinjo Branch (AmagasakiShiritsu Seiryo Chugakko Kinjo Bunko). Contact the Hyogo night schools'consultation center at 078-362-9432 (9時00分 ~ 17時00分 on weekdays) for furtherdetails.
Tuition Subsidies / Scholarships
Various financial assistance systems are available for families with children who have difficulty attending school due to financial reasons. In addition to the national financial support system, Hyogo Prefecture also has financial support systems operated by the prefecture itself and its municipalities. A certain level of income and other conditions must be met in order to be eligible for financial assistance. Contact your current school or the school to which your child is scheduled to attend for further details.
*Languages Supported: Japanese, English
*Language Supported: English
*Languages in which the Pamphlet is Available: Japanese, English, Easy Japanese
*Language Supported: English
*Languages Supported: Japanese, English
Educational Endowment Insurance
This is an insurance program that will cover educational fees. Policies for this insurance are available at banks and other financial institutions, as well as from private insurance companies.
Hyogo Prefecture's Consultation Office for Learning Support, Academic Counseling, and Japanese Language Learning
*Language Supported: Japanese (Interpretation service in your mother tongue is available with advance reservation.)
TEL: 0797-35-4537
Days: Monday - Friday
Time: 9時00分 - 17時00分